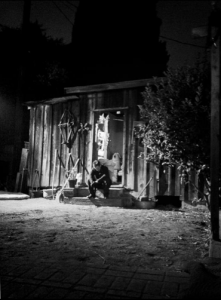 Wow. I haven't posted an update since the last 48 Hour Film Project back in February. Sorry dearies, I've been a tad bit busy. But I'll try to do better…
…And it's the perfect time to let you all know that Team Fortress Cinema, led by the always amazing Joey Harris, once again braved lack of sleep and overcaffination to attempt yet another 48 Hour Film Project. The results were ultimate victory as we took on an even more ambitious script than the amazing Earthbound. The result is a gritty cop drama titled Live With It. That's not a demand, it's a title. But you will have to live with it.
I really would be honored if people made it out to see it as we really did work extremely hard on it, some of us braving illness and lugging dead bodies (no, really) to make it happen. I have to give a special shout-out to my wonderful partner-in-crime and boyfriend, Stuart Davis, who not only ADed like a champ but made sure I had encouragement and hugs at all times. He hugged the rest of the crew too, I'm sure.

Here are the details of the screening:
Laemmle's Town Center 5
17200 Ventura Blvd.
Encino, CA
Thursday, August 18 7:00 PM
You can purchase tickets here, they are only $11 and you get to screen a block of films, not just ours. Be sure to purchase the Thursday, August 18 7:00 PM showing as there are several different screenings.
Last time we had the honor of taking home the Audience Choice Award and we'd love to make a play for a repeat. But mostly, we just want to share our hard work with you all!