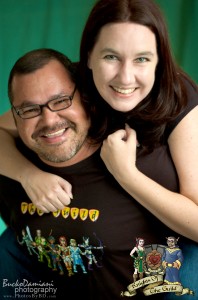 As many of you probably already know, I have the distinct honor of co-hosting a bi-monthly podcast called Knights of the Guild. It was created and is co-hosted by my great pal, Kenny, who I met on the set of season 2 of The Guild. He had a ton of experience in the podcasting world but wanted to create his very own podcast on a subject he was passionate about. Realizing there wasn't already a podcast for The Guild and knowing that having him produce one would result in access to actors, crew, etc. that not a lot of podcasts have the luxury of, he decided to go for it.
It's always been really special to me that Kenny chose me to share this show with. Kenny is one of the most caring, unselfish people I've ever met and just having him in my life has been a pure joy, but being able to share in his passion for the show with the fans has been undescribably amazing. I credit The Guild and everyone who has ever worked on it for putting my life in a direction I never knew possible and being able to celebrate that every month is a true honor indeed.
Kenny does 90 percent of the work on the show: he created the format, spends hours online interacting with fans, creates detailed outlines for each and every show, makes sure all our equipment is up-to-date and functioning, and does all the edits and uploading. He's a podcasting mastermachine and makes it so that pretty much all I have to do is show up and try to be funny. Which I am told I am moderately successful at, especially when eating unicorns is involved.
I really believe the podcast is deserving of some recognition for all the hard work that is put into it and the 2010 Podcast Awards are coming up. I'm hoping those of you who aren't familiar with the podcast and are finding out about it from this blog will take a moment to go check it out. If you like what you hear, it'd mean a great deal to me (and Kenny) if you took a few minutes to vote for us in the Peoples Choice and Entertainment categories.