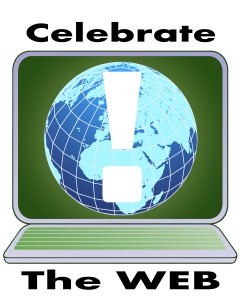 I wanted to give everyone an update on how things are progressing with Celebrate the Web 2. An exciting new opportunity was brought to us for a fun new direction we can take the event to give us an exciting new way to celebrate at the same time keeping our core vision of opening up the celebration to as many people as possible.
Due to our extremely busy production schedules (we do after all not only love web content, Kim Evey and I are producers of it!) it became clear that we'd need to bring on some additional partners who were just as passionate (if not moreso) about the web community as we were to continue to take this event in the direction we'd envisioned it and keep the spirit of it fresh and exciting to the community. I had been approached several months ago by the fabulous and talented web community multi-hyphenates Stephanie Thorpe (Hurtling Through Space at an Alarming Rate, After Judgement, GOLD: Night of the Zombie King) and Taryn O'Neill (Hurtling Through Space at an Alarming Rate, After Judgement, Compulsions, Continuum) about helping to produce an event during the weekend of Comic Con in San Diego that would help fill the demand for more of a web series presence during the Con. Over the course of trying to plan both events, it became clear that we all had the same vision: one of giving fans and non-fans alike a chance to be exposed to and to celebrate the awesome web content that is being created by extremely talented individuals.
It became clear that the best way to make a truly unique and quality event would be to merge these two events into one, while keeping the strengths of what worked with Celebrate the Web (a relaxed atmosphere where fans and creators can come together, whether in person or online through livestreaming) while also celebrating the unique energy that exists during Comic Con and making a strong web presence there.
The format of this event will be slightly modified from our first event: instead of individual speakers, we will be hosting a series of two panels that celebrate Genre (scifi/horror/fantasy/gaming) web series at a beautiful offsite (but within very easy walking distance) location from the Con. These panels will be livestreamed for anyone not in San Diego that weekend to enjoy. A mixer will follow where creators and fans can interact with one another.
As well as the panelists that will be featured, we'll be giving creators who cannot be at the event an opportunity to provide any materials about their shows (flyers, t-shirts, DVDs, whatever swag they wish to provide) to be made available for attendees to enjoy. Any show interested in participating in this should contact me (jenni dot powell at gmail dot com) and I will get them all the information.
The event will take place on Saturday, July 24th so please save the date. We will have more details for you very shortly!
We hope you're all as excited about this new prospect as we are and as always, we're doing this for you, the web series community so we are open for all feedback, so please comment on this post. Stephanie, Taryn, Kim, and I are all tremendously excited to have this great opportunity to provide an amazing event to all of you.