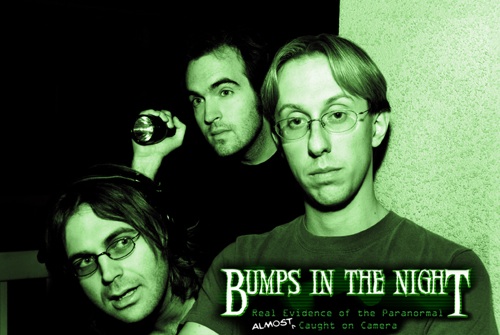 There is nothing quite like a sexually suggestive title, is there? I assure you, for the most part, this entry with stay PG…or at the most PG-13.
I've had the distinct pleasure of picking up producing duties on the web series Bumps in the Night, which on our Facebook Page is listed as a "Supernatural Procedural Comedy". What's not to love about that?
The series started out on StrikeTV but we're going to brave it on our own and go independent this time around. I met the guys who created it; Emmett Furey, John Reha, and Greg Benevent; a while back through my old roommate Adam Daroff, who went to Drexel University with them (though he didn't know Emmett until they were both in LA). It seemed like a natural fit to take my web experience as well as being a fan of the show and have me jump on board for the new season. Story of my life: "hey, I like your show…can I work on it?" "Sure!" As my buddy Sam Proof pointed out recently…it never hurts to just ask.
Incidentally, Sam will be directing our first full episode of the season, which is going to be released on February 17th. Because…he asked.

In the meantime, check out the first of our Live Tips. They will be airing on the Wednesdays between our main episodes. Also check out our kickass blog and subscribe to our Twitter feed.
Happy Haunting!